A Man and his Music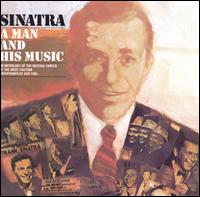 Recorded
December 19, 1960 – October 21, 1965
'A Man and His Music is a 1965 Reprise album that gives a narration and retrospective of Frank Sinatra's career up to the time. It is Sinatra's forty-seventh studio album.
Of the thirty-two tracks, most of the earlier ones had to be re-recorded due to licensing issues.
Nearly only 2000 copies of A Man and his Music were made, the majority of which were given to fans who attended Sinatra-based events in 1965. Inside each copy, was a card numbered and signed by Sinatra, himself.
Track listing
Edit
Disc one
Edit
Disc two
Edit
Ad blocker interference detected!
Wikia is a free-to-use site that makes money from advertising. We have a modified experience for viewers using ad blockers

Wikia is not accessible if you've made further modifications. Remove the custom ad blocker rule(s) and the page will load as expected.