A Swingin' Affair!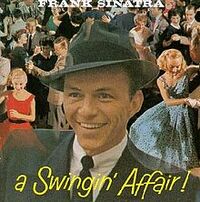 Release date(s)
1956
1991
1998
Recorded
November 15–November 28, 1956
Total tracks
15 (16 in CD re-release)
A Swingin' Affair! is Frank Sinatra's fourteenth studio album. Released in 1956, the tracks were arranged by Nelson Riddle for Capitol Records.
Track listing
Edit
The song "No One Ever Tells You" was released as a B-side single of the single release for "To Love and Be Loved."[1]
Reception
Edit
Allmusic gave the album a perfect score of five out of five stars. In comparison to the previous year's Songs for Swingin' Lovers, Stephen Thomas Erlewine of Allmusic claimed that "A Swingin' Affair! is a forceful, brassy album -- it exudes a self-assured, confident aura."[2]
Rolling Stone gave the album a perfect score of five out of five stars as well.[3]
A Swingin' Affair! peaked at #2 ont he Billboard 200 charts of 1957.[4] The album also peaked at #1 on the UK Albums Chart. [5]
Personnel
Edit
Personnel

Voyle Gilmore
Producer
Nelson Riddle
Arranger, Conductor
Frank Sinatra
Vocals
Larry Walsh
Remastering
Pete Welding
Liner Notes
References
Edit
Ad blocker interference detected!
Wikia is a free-to-use site that makes money from advertising. We have a modified experience for viewers using ad blockers

Wikia is not accessible if you've made further modifications. Remove the custom ad blocker rule(s) and the page will load as expected.