Bolton Swings Sinatra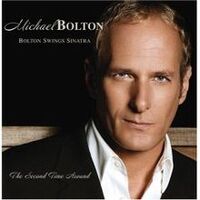 Release date(s)
May 23, 2006
Record Label
Concord Records
Producer
Michael Bolton, Alex Christensen
Bolton Swings Sinatra is a Frank Sinatra tribute album released by Michael Bolton.
The album charts some of Frank Sinatra's greatest hits including "I've Got You Under My Skin," "That's Life," and "Theme from New York, New York." The album has given Bolton a minor comeback in his late and modern career, selling more than 300,000 copies world-wide.
Track listing
Edit
Ad blocker interference detected!
Wikia is a free-to-use site that makes money from advertising. We have a modified experience for viewers using ad blockers

Wikia is not accessible if you've made further modifications. Remove the custom ad blocker rule(s) and the page will load as expected.