Christmas Through the Years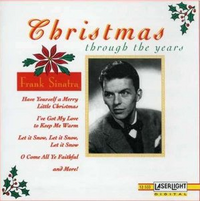 Release date(s)
October 17, 1995
November 4, 1998
Recorded
November 14, 1944 - December 20, 1957
Christmas Through the Years is the second Christmas compilation album of Frank Sinatra performances of Christmas and holiday music. The album features most songs from the Frank Sinatra Christmas TV specials during Sinatra's early years with Columbia Records, but in a scratched and poor quality.
Track listing
Edit
Ad blocker interference detected!
Wikia is a free-to-use site that makes money from advertising. We have a modified experience for viewers using ad blockers

Wikia is not accessible if you've made further modifications. Remove the custom ad blocker rule(s) and the page will load as expected.