Frank Sinatra: The Reprise Years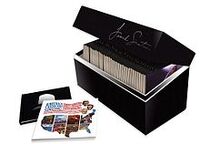 Release date(s)
November 29, 2010
Frank Sinatra: The Reprise Years is a 36 disc box set of Frank Sinatra's albums during the Reprise years.
However, the album misses out on quite the bit of Reprise material including the two Greatest Hits albums as well as other compilation albums released during the time. The album also misses several non-album singles Sinatra made over the Reprise years.
Track listing
Edit
The tracks that appear in the collection are the track listings of the original albums:
Ad blocker interference detected!
Wikia is a free-to-use site that makes money from advertising. We have a modified experience for viewers using ad blockers

Wikia is not accessible if you've made further modifications. Remove the custom ad blocker rule(s) and the page will load as expected.