Frank Sinatra Conducts Tone Poems of Color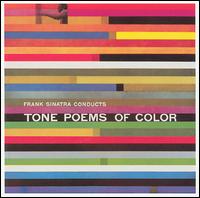 Recorded
February 22, 28, March 7, 15, 1956
Frank Sinatra Conducts Tone Poems of Color is a Capitol studio album of Frank Sinatra in which he conducted the orchestra, followed by arrangements by several artists. It is the twelfth studio album of Sinatra's discography.
A total of eight swing era composers were chosen for this album: Victor Young, Gordon Jenkins, Billy May, Jeff Alexander, Alec Wilder, Nelson Riddle, Elmer Bernstein, and André Previn. This album's tracks were tone poems written by the aforementioned composers. This was the first work that Sinatra actually conducted; it is also his first collaboration with Gordon Jenkins.
This album didn't make it well with the public and had a somewhat poor reception. It's only re-release is in the compilation box set, Concepts.
Track listing
Edit
Ad blocker interference detected!
Wikia is a free-to-use site that makes money from advertising. We have a modified experience for viewers using ad blockers

Wikia is not accessible if you've made further modifications. Remove the custom ad blocker rule(s) and the page will load as expected.