Gold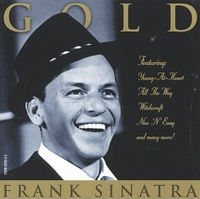 Release date(s)
May 19, 1998
August 28, 2000
Not to be confused with Gold Collection.
Gold is a compilation album of Frank Sinatra and his work under Capitol Records. The album was released initially in 1998, and was one of the first single-disc compilations of Sinatra's Capitol work. Since then, however, the album was been outclassed by other compilations such as Classic Sinatra and Best of the Best.
Track listing
Edit
Ad blocker interference detected!
Wikia is a free-to-use site that makes money from advertising. We have a modified experience for viewers using ad blockers

Wikia is not accessible if you've made further modifications. Remove the custom ad blocker rule(s) and the page will load as expected.