Point of No Return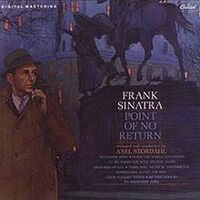 Release date(s)
March 1962
1987
2002
Recorded
September 11-12, 1961
Total tracks
15 (1962 LP)
16 (1987 CD)
Point of No Return is the final studio album Frank Sinatra recorded for Capitol Records. It is his twenty-seventh studio album. Released in 1962, Sinatra had already begun his recordings for his self-founded recording label, Reprise.
Sinatra, to fulfill his contract, only took a two-day session in September 1961 to record and finish up his work at Capitol with this album.
Track listing
Edit
Only one song from Point of No Return was released as a single. "I'll Remember April" was released as an A-side single along with Come Swing with Me!'s "Five Minutes More."[1]
Reception
Edit
Allmusic gave the album an average score of three out of five stars. Stephen Thomas Erlewine of Allmusic recalled on the album saying "though the Voice gave a more heartfelt, dedicated performance than expected, the project was rushed along, necessitating the use of a ghost-arranger, Heine Beau, for several tracks." The central issue with Point of No Return is the standing argument that "Sinatra was no longer interested in giving his record label first-rate material, preferring to save that for his new label, Reprise."[2]
Point of No Return peaked at #19 on the Billboard 200 charts of 1962.[3]
Personnel
Edit
Personnel

Dave Cavanaugh
Producer
Voyle Gilmore
Producer
Herman Hupfeld
Composer
Johnny Mercer
Composer
M. Philippe-Gerard
Composer
Frank Sinatra
Vocals
Axel Stordahl
Arranger, Conductor
Angele Marie T. Vannier
Composer
Pete Welding
Liner Notes
Robert Wright
Composer
References
Edit
Ad blocker interference detected!
Wikia is a free-to-use site that makes money from advertising. We have a modified experience for viewers using ad blockers

Wikia is not accessible if you've made further modifications. Remove the custom ad blocker rule(s) and the page will load as expected.