September of My Years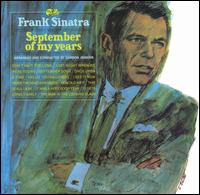 Release date(s)
September 1965 (LP)
1975
October 1986 (CD)
1998
2004
2010
Recorded
April 13–May 27, 1965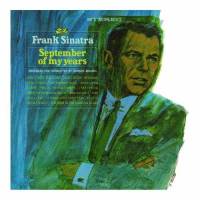 For the song, "September of My Years", see "The September of My Years".
September of My Years is a 1965 studio album by Frank Sinatra; it was arranged by Gordon Jenkins. The album was released as Sinatra's forty-fifth studio album.
Both September of My Years, and A Man and His Music, another 1965 album by Sinatra, won the Grammy Award for Album of the Year. This album brought some of Sinatra's best hits such as "The September of My Years", "This Is All I Ask", and one of his highest-rated songs, "It Was a Very Good Year". The latter of which won the Grammy Award for Best Vocal Performance, Male as well.
In 2010, the album was re-released with two bonus tracks: a live performance of "This Is All I Ask", and a higher quality version of "How Old Am I?".
Production
Edit
Frank Sinatra recorded this album in four separate sessions after the long process of selecting the songs. The sessions caught the eyes of the press greatly and CBS went in with cameras to record Sinatra and his work in the studio with Jenkins' orchestra. The recording was to be done in originally only three sessions for this however in May, Sinatra was approached by his songwriting duo Sammy Cahn and Jimmy Van Heusen, to which they presented him with the album's future title track.
Track information
Edit
The idea behind September of My Years began when a now middle-aged Sinatra had an idea to make an album based on past loves. He called Gordon Jenkins and soon booked a few recording dates in April 1965. Sinatra was inspired by Jenkins' own "This Is All I Ask" and his own previous recordings of the standard "September Song."[7] The songs featured in the album focus on a story of a middle-aged man recalling past romances he has had in his long life. Inspired by the song, the album was initially to be named September Songs but in May of 1965, after being called upon when the project reached inception, Jimmy Van Heusen and Sammy Cahn wrote the song "The September of My Years" which became the lead track of the album, giving the album its final name.[6]
Track listing
Edit
The album's first single "It Was a Very Good Year," was released in 1965 along with the song "Moment to Moment." The second single of the album, the title track, "The September of My Years," was released in 1966, with the title track of Sinatra's 1966 album That's Life. In 1968, "How Old Am I?" finally was released as a single with "I Can't Believe I'm Losing You."[1]
Reception
Edit
Allmusic gave September of My Years a perfect five out of five score. About Jenkin's arrangements, Allmusic complements them as "an appropriate reflective atmosphere" and "every cut fits into a loose theme of aging, reflection, and regret."[2]
September of My Years peaked at #5 of the Billboard 200 charts in 1966.[8] The song "It Was a Very Good Year" peaked #1 on the Adult Contemporary charts, as wellas #28 on the Billboard charts.[9]
Awards and nominations
Edit
September of My Years literally "cleaned out" at the 1965 Grammy Awards. Sinatra won the award for "Best Male Pop Vocal Performance" thanks to his rendition of "It Was a Very Good Year." Alongside, Sonny Burke, Sinatra took the award for Album of the Year as well.
In addition to these awards, Stan Cornyn, a composer for the album and album line note-taker, won the award for "Best Album Notes." Gordon Jenkins, the album's arranger, took the award for "Best Instrumental Arrangement Accompanying Vocalist(s)/Best Background Arrangement" as well.[10]
Personnel
Edit
Personnel

Keith Blake
Digital Mastering
Sonny Burke
Producer
Sammy Cahn
Composer
Benny Carter
Composer
Stan Cornyn
Liner Notes
Lowell Frank
Engineer
Gregg Geller
Reissue Producer
James Van Heusen
Composer
Bart Howard
Composer
Don Hunt
Composer
Gordon Jenkins
Arranger, Conductor
Frank Sinatra
Vocals
Henry Stinson
Composer
Ed Thrasher
Art Direction
References
Edit
↑ September of My Years 2010 liner notes page 3.
Ad blocker interference detected!
Wikia is a free-to-use site that makes money from advertising. We have a modified experience for viewers using ad blockers

Wikia is not accessible if you've made further modifications. Remove the custom ad blocker rule(s) and the page will load as expected.