Sinatra 80th: All the Best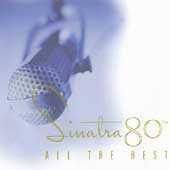 Release date(s)
November 14, 1995
Sinatra 80th: All the Best is a compilation album of Frank Sinatra released under Capitol Records.
Sinatra 80th: All the Best was released in collaboration with Sinatra's 80th birthday. The album features a variety of his "best" hits under Capitol. The final track, Mel Tormé's "The Christmas Song," was recorded with the legendary jazz pianist, Nat King Cole.
Track listing
Edit
Disc one
Edit
Disc two
Edit
Ad blocker interference detected!
Wikia is a free-to-use site that makes money from advertising. We have a modified experience for viewers using ad blockers

Wikia is not accessible if you've made further modifications. Remove the custom ad blocker rule(s) and the page will load as expected.