Sinatra 80th: Live in Concert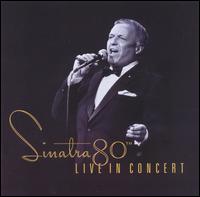 Release date(s)
November 14, 1995
Sinatra 80th: Live in Concert is a 1995 live album of Frank Sinatra. It contains tracks from two separate concerts, one in Detroit, Michigan (in 1988) and the other in Dallas, Texas (in 1987).
The performance of "My Way" in this album was not recorded alongside the rest of the tracks. This recording is not live, and is an outtake from the Duets albums. Luciano Pavarotti performs the vocals with Sinatra on this duet.
Track listing
Edit
Ad blocker interference detected!
Wikia is a free-to-use site that makes money from advertising. We have a modified experience for viewers using ad blockers

Wikia is not accessible if you've made further modifications. Remove the custom ad blocker rule(s) and the page will load as expected.