Sinatra Saga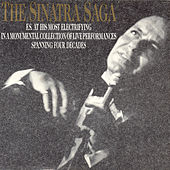 Record Label
Bravura Music
Sinatra Saga is a compilation album of live performances Frank Sinatra performed during the fifties to the eighties. It has a sequel album of more performances titled Sinatra Saga, Vol. 2.
Track listing
Edit
Disc one
Edit
Recorded at the Opera House Theater, Blackpool, England, July 26, 1953
Disc two
Edit
Recorded at the Oakland Coliseum, Oakland, California, May 22, 1968
Ad blocker interference detected!
Wikia is a free-to-use site that makes money from advertising. We have a modified experience for viewers using ad blockers

Wikia is not accessible if you've made further modifications. Remove the custom ad blocker rule(s) and the page will load as expected.