Sinatra Sings Great Songs From Great Britain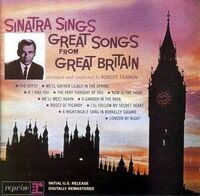 Release date(s)
1962
1993
1999
February 22, 2010
[1]
Recorded
London - June 12–14, 1962
Sinatra Sings Great Songs From Great Britain is a 1962 Reprise album by Frank Sinatra. It is Sinatra's thirty-fifth studio album.
The tracks of the album all originated in Great Britain. In addition to originating in Britain, Sinatra recorded this album in Britain, however, these recordings were only released in Britain as an LP. This was Sinatra's only studio album recorded outside the United States.[3]
Track listing
Edit
Reception
Edit
Sinatra Sings Great Songs from Great Britain was given below average reviews from publications such as Allmusic. Allmusic claims that the arragnements of the album "are more interesting than the actual songs" and "Sinatra was simply not in good shape for the sessions."[2]
Personnel
Edit
Personnel

Hughie Charles
Composer
Robert Farnon
Arranger, Conductor
Alan Freeman
Producer
Benny Green
Liner Notes
Lee Herschberg
Digital Mastering, Mastering, Remixing
James Isaacs
Liner Notes
Maewa Kaihan
Composer
Maewa Kaihau
Composer
Ross Parker
Composer
Clement Scott
Composer
Merle Shore
Art Direction
Frank Sinatra
Vocals
Dorothy Stewart
Composer
Frederick Edward Weatherly
Composer
References
Edit
Ad blocker interference detected!
Wikia is a free-to-use site that makes money from advertising. We have a modified experience for viewers using ad blockers

Wikia is not accessible if you've made further modifications. Remove the custom ad blocker rule(s) and the page will load as expected.