The Capitol Years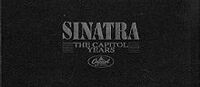 Release date(s)
November 10, 1998
For the 1990 album, see The Capitol Years (1990).
The Capitol Years is a collection of all of Frank Sinatra's works with Capitol Records. The album was only released in the UK, and misses two of Sinatra's albums, however: A Jolly Christmas from Frank Sinatra and Frank Sinatra Conducts Tone Poems of Color.
Track listing
Edit
Disc fourteen - Look to Your Heart (recorded 1953-5, released 1959) Edit
Ad blocker interference detected!
Wikia is a free-to-use site that makes money from advertising. We have a modified experience for viewers using ad blockers

Wikia is not accessible if you've made further modifications. Remove the custom ad blocker rule(s) and the page will load as expected.