Where Are You?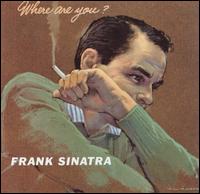 Recorded
April 10 - May 1, 1957
Total tracks
12 (16 in CD re-release)
Where Are You? (Later referred to as The Night We Called It a Day), released in 1957, is the sixteenth studio album by Frank Sinatra.
The first time Sinatra recorded in stereo, Sinatra recorded these tracks under Gordon Jenkins. Where Are You? was the pair's first album together, and began their long partnership until Sinatra's final Reprise album, 1981's She Shot Me Down.
Track listing
Edit
Reception
Edit
Allmusic rated Where Are You? at five out of five stars, praising Sinatra's lush vocal sound blended with Gordon Jenkins's sumptuous strings. In comparison to In the Wee Small Hours, Allmusic' Stephen Thomas Erlewine says "It doesn't have the stark despair of In the Wee Small Hours, but its luxurious sadness makes Where Are You? a majestic experience of its own."[1]
Rolling Stone also rated the album a perfect score of five out of five stars.[2]
Where Are You? Peaked at #3 on the Billboard 200 charts of 1957.[3]
Personnel
Edit
Personnel

Dave Cavanaugh
Producer
Jack Elliott
Composer
Eddie Finckel
Composer
George Finlay
Composer
David Franklin
Composer
R. Getzov
Composer
Gordon Jenkins
Arranger, Conductor
Don Marcotte
Composer
Johnny Mercer
Composer
David Raksin
Composer
Reichel
Composer
Nelson Riddle
Arranger, Conductor
Fritz Schulz
Composer
Frank Sinatra
Vocals
Charles Warfield
Composer
Pete Welding
Liner Notes
Alec Wilder
Composer
Clarence Williams
Composer
References
Edit
Ad blocker interference detected!
Wikia is a free-to-use site that makes money from advertising. We have a modified experience for viewers using ad blockers

Wikia is not accessible if you've made further modifications. Remove the custom ad blocker rule(s) and the page will load as expected.